Member
Posts: 2
Joined: Thu Nov 10, 2011 8:19 am
Sorry - quite new to this and couldn't find the answer previously.
Quite simply, if I have included a caption on one slide, can I copy it to other slides easily ?
If so, please, how ?
Thank you
---
Posts: 7500
Joined: Wed Nov 29, 2006 6:35 pm
Location: Kirkland,Wash, USA, Earth
This may or may not help you - since I don't have Gold installed. In Producer, from the captions page, you can click on the little options dialog and get to the options to copy the captions to various slides etc -- see the screenshot below: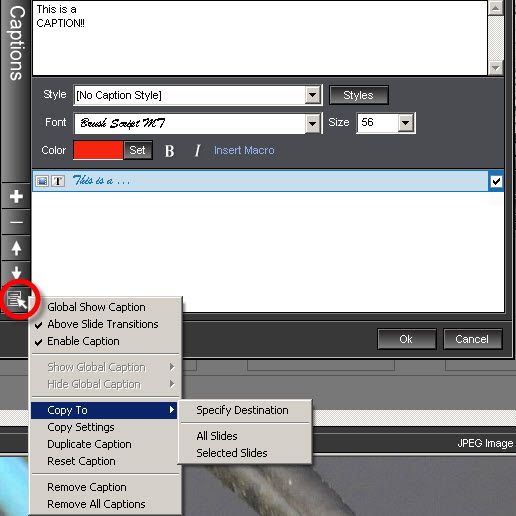 mikey
You can't have too many gadgets or too much disk space !!
mikey (PSP6, Photoshop CS6, Vegas Pro 14, Acid 7, BluffTitler, Nikon D300s, D810)
Lots of PIC and Arduino microprocessor stuff too !!
---
ProShow Hall of Fame
Posts: 3143
Joined: Mon Nov 13, 2006 7:42 pm
Location: Northern Virginia
It's the same. You can also right-click right on the caption just above that and you'll get the
copy to
options as well.
Dick
"It is the mark of an educated mind to be able to entertain a thought without accepting it." Aristotle ((PSG, PSE & Fuji HS20 user))
Presentation Impact Blog
---
Member
Posts: 2
Joined: Thu Nov 10, 2011 8:19 am
Thank you for the rapid response; easy when you know how, n'est-ce pas ?
In fact, it is Producer which I start to use.
---
Who is online
Users browsing this forum: No registered users and 3 guests